San Jose Cheapest Fares
To search and book flights to San Jose in 2022 and 2023, please enter your requirements and click the search button above.
The Raging Waters of San Jose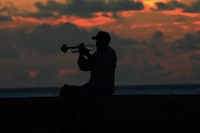 Though very few people realize it, San Jose was the first capital of the state of California. Today it is known the world over as the capital of the Silicon Valley and the heart of the information technology industry. But San Jose is much more than a computer geek's paradise. It offers a number of impressive attractions, many of which fall into the 'largest in America' category.
Major and minor league soccer teams, jazz concerts, the Lick Observatory (which houses what was once the largest telescope in North America), the largest Gurdwara in the U.S., and a host of other attractions make San Jose a worthy destination on any holiday plan. However, the most popular attraction by far has to be Raging Waters – the largest water theme park in California.
The Raging Waters theme park spreads across 23 acres and uses thousands of gallons of water to give the visitor experiences such as the 350,000 gallon wave pool and an interactive water fort called Pirate's Cove. Some of the other great rides include the Barracuda Blaster, which will slide three people at a time through 500 feet of twisting tubing and end in a plunge pool; the Great White Shark, where visitors will be swallowed and then deposited in the Lazy River; and the Endless River, where visitors float downstream through waterfalls and streams.
This fun-for-all destination is located in Lake Cunningham Regional Park and opens to the public each day at 10:30 am.