Oakland Cheapest Fares
To search and book flights to Oakland in 2022 and 2023, please enter your requirements and click the search button above.
Chinatown is a top destination in Oakland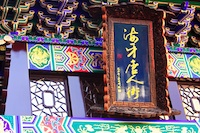 While not as large or popular as its counterpart in San Francisco, Oakland's Chinatown is a lot more authentic. Without all the touristy glitz that comes from the larger and more well-known version, this Chinatown has become a popular destination for people who want a taste of contemporary Asian culture as found within an American city. Chinese immigrants first started arriving in the 1850s, making Oakland's Chinatown one of the oldest in the States.
Oakland's Chinatown is filled with unique Asian-influenced activities and a vivid, authentic atmosphere. From the delicious cuisine and the shopping booths filled with unique and cultural items for sale, everyone can find something of interest at this vibrant part of the famous Californian city. Korean and Vietnamese culture is on display here as well, with vendors and shop owners of these descents displaying unique cultural wares as well as more mainstream American ones.
Every year Chinatown's Streetfest draws large crowds for a celebration packed full of traditional Asian entertainment, authentic cuisine and excitement in the faces of all of the participants. Popular with adults and children alike, the Streetfest is one of the biggest events in Chinatown each year, and one of the best times to visit the city.
Visitors looking for a unique holiday where they can soak up American culture in this historic melting pot can get daily flights to Oakland anytime during the year. It is a fascinating destination that boasts an assortment of exciting opportunities for sightseeing, shopping and culinary delights.