Louisville's Bluegrass Balloon Festival.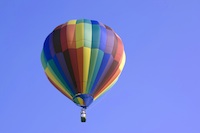 The Spirit of Kentucky, sponsors of the annual Louisville balloon festival, have issued an invitation for this year's spectacular meet, due to take place on the fourth weekend of September at Bowman's Field, Louisville, Kentucky.
Over $30,000 in prize money is on offer, and it is expected that the event, the largest in Kentucky, will draw more than 70,000 participants to this destination.
The festival is a three-day event and draws up to 100 hot air balloons. The fun begins first thing with a group flight colouring the morning sunlight. The festivities continue throughout the day with live music concerts, food, a five-kilometre charity walk and magical balloon glows in the evening.
Originally known as the Adam Matthews Balloon Festival when it was first held in 1999, the event grew in popularity to become the fifth largest of its kind in the United States, attracting balloon pilots from as far away as New Zealand, Canada and western USA to this destination. Television networks often feature the event, particularly the spectacular evening balloon glows, where balloons are inflated after dark and glow to music.
Other great attractions for the Louisville visitor are the famous Kentucky Derby, known as the Greatest Two Minutes in Sports, held at the legendary Churchill Downs Racetrack on the first Saturday in May.
Year-round attractions in Louisville are the historic steamers on the Ohio River. The Belle of Louisville is a National Historic Landmark that harks back to the days when passengers and goods were carried to the East Coast along the mighty Mississippi River.