Jackson Cheapest Fares
To search and book flights to Jackson in 2020 and 2021, please enter your requirements and click the search button above.
Bump ride at Jackson Hole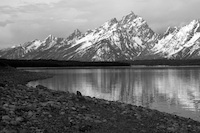 High water levels in Jackson Hole are giving adventurous holidaymakers wild rides. Water sport enthusiasts are experiencing extreme white-water rafting as water levels continue to rise on Snake River, increasing the chances of capsizing.
Jackson Hole, Wyoming offers sporty travellers a variety of challenges and a wealth of excitement. As the snow melts from the mountain at the end of ski season, the water levels rise on Snake River. An unprecedented snowfall in winter may make not only for a good skiing season but adrenaline pumping water sport in the spring. High-water season in Jackson sees rafting outfitters requiring patrons to wear wetsuits and helmets, in case the swiftly moving river should send them plunging into the chilly 39 degree F water.
The eight mile descent down Snake River usually takes just over an hour and offers a few nice surprises, even for the experienced rafter. With water levels set to double, rafters could be in for a long bouncy ride. Lunch Counter rapids, an always exciting section of Snake River, becomes a knuckle whitening thrill ride in the spring. While the rafters may love it, the kayakers could do with just a little less oomph.
Safety awareness is heightened, during high water-level season and kayakers are more vulnerable. Some believe this is a positive thing, as it reminds patrons to be safety conscious. When complacency sets in, danger strikes. Those who run sport courses and operate tours would like to see this sort of safety awareness throughout the season.
Jackson Hole offers a host of sporty options to visitors but in the spring, water sport is not for the faint of heart.