Spokane rolls out fun for autumn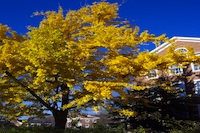 At summer's end, a number of American states wrap up their festivals and fairs and prepare for the school year ahead. Washington state, however, keeps festivals in full swing in the east, with something to do every weekend and even on days in between. The Spokane County Interstate Fair is a huge event in the state, with activities for the whole family.
Spokane, Washington is a popular holiday destination, because of its outstanding natural beauty balanced by fabulous tourist facilities. The Spokane County Interstate Fair may be the locals' little secret, but it is a spectacle worth planning any holiday around. The festival boasts an extraordinary array of rides, from those just for children to those for kids at heart. Entertainment includes pedal tractor races, pig races and mutton busting for the kids, as well as a rodeo and numerous other events for adults. The fair also runs a variety of competitions for quilts, produce, baking and animals, where exhibitors win ribbons, trophies, cash and other great prizes.
Of course, Spokane has more to offer than the fair. Though it takes place every day, over nine days, it is possible to experience everything the fair has to offer over the course of a week. This travel destination also hosts the whole spectrum of sport holidays including white-water rafting, skiing, hiking, bilking, and a host of others.
This destination prides itself on its 'fun' factor. The Spokane County Interstate Fair embodies the childlike spirit that the city hopes to evoke in all of its visitors and it offers 101 ways to expend that energy, while it lasts.