West Palm Beach Cheapest Fares
To search and book flights to West Palm Beach in 2022 and 2023, please enter your requirements and click the search button above.
Here Comes the Sun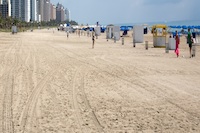 West Palm Beach is one of Florida's biggest towns and holiday destinations and somewhere where sunshine is guaranteed pretty much all year long. One of the biggest events in the town's calendar is its annual music festival, Florida's biggest waterfront and music festival, which attracts festival goers from all over to see its line up of dance friendly bands and artists.
The festival, called SunFest, first started in 1982 in an effort to promote tourism during what is known locally as the 'shoulder' season - the point between winter and summer when the visitor numbers traditionally drop off and resorts are quiet. Held at the end of April every year, it has been hugely successful in attracting big names in the music industry to this destination, as well as an enormous numbers of festival goers - the average number of attendees is now close on 300,000.
The festival takes place over five days in venues in the centre of the town and along the waterfront. As well as musical concerts, there are firework displays, party barges and wine tastings.
The bands and artists who play at the festival come from a wide range of genres. Some of the dazzling list of artists who have performed at the festival are Cee Lo Green, MGMT, Jeff Beck, Styx, John Mayer, Ray Charles, Nelly, Lenny Kravitz, Dizzy Gillespie, Bob Dylan, Earth Wind and Fire, Cyndi Lauper, Pink Floyd and The Wailers.