Honolulu Cheapest Fares
The lowest fare found to Honolulu (HNL) was £929 with Westjet. The fares shown here are the lowest flight prices to Honolulu obtained in actual searches by Just The Flight customers. To search and book flights to Honolulu in 2022 and 2023, please enter your requirements and click the search button above.
Don't miss out on Honolulu's Kava Festival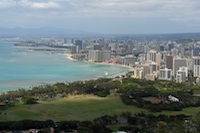 An Hawaiian holiday includes several choice destinations, one of them being Honolulu. The big island of Oahu is where many daily flights land, with passengers awaiting the endless beaches and exquisite sunsets of Honolulu. The city is more than 150 years old and even with its modern developments, it has not lost its unique charm. There are parts of the city that remain quaint, with trendy bars and pubs outside the resort areas.
Hawaii's weather is pleasant year round, even during the rainy season. Honolulu does not generally experience the large fluctuation of temperatures that other tropical areas do, which means the climate here is consistent most of the time. This also means it's usually busy all twelve months of the year, however, making Honolulu your destination during the autumn and summer can help avoid the massive crowds. These are the months known for rainfall, which lessens the crowds as well as the cost of travel.
Honolulu is not without a variety of things to do including festivals. Each year the city hosts the Kava Festival, which is locally referred to as the Awa Festival. This massive event celebrates all things Hawaiian, emphasising the local people's culture through exhibits, workshops, demonstrations, music and food.
Another major event is Hawaii's International Film Festival. During the month of October, film buffs from around the world have been gathering here since 1981. The focus of this 11 day festival is to exhibit Pacific and Asian short films and documentaries.