New Orleans Cheapest Fares
The lowest fare found to New Orleans (MSY) was £653 with American Airlines. The fares shown here are the lowest flight prices to New Orleans obtained in actual searches by Just The Flight customers. To search and book flights to New Orleans in 2022 and 2023, please enter your requirements and click the search button above.
New Orelans, so much more than Mardi Gras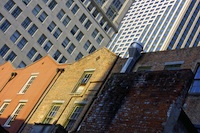 The ultimate destination when you want it all without going far from home, New Orleans, Louisiana promises to deliver. It is a spectacular city filled with everything a heart could desire including history, art, music and food from almost every genre of culture imaginable.
New Orleans is a vibrant city year round, even when it is not celebrating Mardi Gras. The city is constantly alive with sights and sounds that will have you wanting more. Looking for an authentic experience? Check out New Orleans flights during the month of June. This is the time the city puts on a charity of sorts to raise awareness and celebrate the local oyster farmers who were affected by the last oil spill. The oyster festival highlights local culinary delights as well as providing entertainment from local musicians.
If you're looking for a great jazz festival, make New Orleans your next destination. Towards the end of April and into the beginning of May, expect the streets to be packed as the city presents it famous New Orleans Jazz and Heritage Festival. This major city event showcases the best of Louisiana music across ten stages over two weekends.
If Mardi Gras is the festival you seek, then head to New Orleans in February and get ready to be wowed by one of the largest outdoor parties ever. Exuberant floats, colourful costumes, energetic dancers and endless excitement are only some of the things you can expect from this mega event.