Tallahassee Cheapest Fares
To search and book flights to Tallahassee in 2020 and 2021, please enter your requirements and click the search button above.
Springtime is the time to visit Tallahassee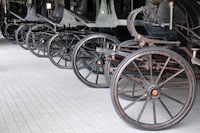 As the capital of Florida in the United States of America, Tallahassee is a hugely popular tourist destination throughout the year. With many sporting events, exhibitions and other events throughout the year, there is always something going on in Tallahassee, however one of the biggest events is Springtime Tallahassee, an event held every April in celebration of the history of the area.
First launched in 1968, Springtime Tallahassee has grown bigger and attracted more visitors every year and the main focus of the festivities, the Grand Parade now draws over 200,000 visitors, making it the one of the largest parades in the Southeast. During the parade, hundreds of elaborately decorated floats make their way though the streets, accompanied by horse drawn carriages and performers in traditional costumes.
A number of other events take place during Springtime Tallahassee, beginning with the Breakfast in the Park where one of Tallahassee's well known downtown parks is host to locals and visitors for a grand breakfast event. Jubilee in the Park features many stalls, selling arts and crafts, food and drink and other goods. There is various live entertainment provided throughout the event, and plenty of activities to keep kids entertained during the day. Before the parade begins, the Springtime 10k is run, where hundreds of runners race through the streets of downtown Tallahassee.
While Tallahassee is a popular destination at any time of the year, the cooler spring weather and the wealth of activities on offer make this time of year a great one to visit the city.