Tucson – Sonoran Desert Oasis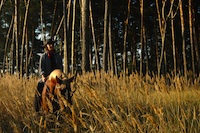 Tucson, or The Old Pueblo, lies in the Santa Cruz River valley in the Sonoran Desert, Arizona. Surrounded on all sides by high mountains, it is a place that has been inhabited for thousands of years by Native Americans. Spanish and Northern European settlers followed, and today Tucson is a rich mix of cultural heritages, making it a fascinating destination.
With 350 days of sunshine per year, most tourists opt to spend their time outdoors, browsing Tucson's various markets or visiting the Old Tucson Native Village. Nearby guest ranches also provide travellers with an opportunity to experience life as a cowboy, or simply enjoy the awe-inspiring Arizona countryside on horseback. Many also offer an array of modern and luxurious facilities, including world class cuisine, lavish pools and spas, kids programmes and nature tours.
The destination's other attractions include festivals, such as the Tucson Rodeo, or Fiesta de los Vaqueros, held in February which includes traditional events like cattle roping and bronco riding, as well as the annual Rodeo Parade, billed as "the world's largest non-mechanized parade".
The Culinary Festival in October starts with a World Margarita Championship, and is followed with tastings, chefs' challenges, barbecues and Dine Around Tucson, which allows visitors the chance to sample fare from four different dining districts of Tucson.
Another major event is the All Souls Procession held on the Day of the Dead, or Halloween, which is the climax of a month-long celebration of the Mexican tradition of Dia de los Muertos. Altars decorated with crafts, food and symbolic decorations are carried through the streets, traditionally to ancestral burial sites.