Nature lovers book flights to Rochester, New York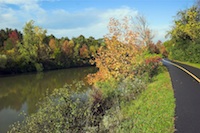 The dramatic parklands of Rochester, New York, are one of the main reasons why flights to the city are usually booked, especially during the summer season.
Hiking and camping are two of the major activities holidaymakers can enjoy while in Rochester. Backpacking, fishing, birding, sailing, boating, kayaking, canoeing, and cruising are also popular activities in this part of New York, making the small city a favourite destination among nature lovers.
The rolling hills of Brighton, just a few minutes from the city centre, is a popular destination for hikers. Other hiking trails to try include Black Creek Field Loop Trail, Beechwoods Park Trail, Auburn Trail and Birdsong Trail.
With the State of New York being one of North America's best birding sites, Rochester offers birdwatchers a variety of species to see. The best time to go to the area is during spring migration when different species fly to Cobbs Hill Park. Another great place for city birding is Highland Park.
For those who love the water, going canoeing or kayaking while in this part of New York is suggested. Irondequoit Bay's southern end has a few places where holidaymakers can rent kayaks and canoes. Tourists can also rent boats at the bay. Canandaigua Lake and Conesus Lake are also great places for boating.
The area also offers a selection of boat tours and cruises. In fact, there are a lot of cruises available at the Rochester port of call.