Buffalo Cheapest Fares
To search and book flights to Buffalo in 2020 and 2021, please enter your requirements and click the search button above.
Buffalo, the "City With a Heart"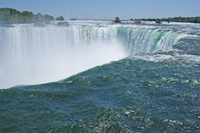 No, buffaloes can't fly. Then where do Buffalo wings come from? Buffalo wings are actually the invention of USA Today's "City with a Heart", which is Buffalo, New York. If you're looking for a taste of authentic, original Buffalo wings, consider this city near to the world-famous Niagara Falls as your next destination.
As stated earlier, Buffalo is near to the world-famous Niagara Falls. It doesn't take a genius to figure that the Niagara Falls State Park, the oldest in the country, offers fantastic views of the Falls and is a very beautiful area. Efforts have been taken to preserve the natural beauty of the area, so you won't find glitzy attractions in the State Park. Just take a short drive up the I-190 or a ride on a bus to see this magnificent natural wonder for yourself.
Nothing beats tasting authentic food. This is true of Buffalo wings in Buffalo, NY. As the name suggests, Buffalo wings originated from Buffalo. The original Buffalo wings come from the Anchor Bar, located on Main Street. Duff's in Amherst is also highly revered by locals for Buffalo wings. Also try the other local speciality, beef on weck, which can be found anywhere that serves hot sandwiches.
Buffalo is renowned for its architecture. Many buildings in Buffalo have a heritage design. You will find many of these buildings in the historic Allentown district, located Downtown. Another famous architectural wonder of Buffalo is the Darwin Martin House, designed in the 20th century by architect Frank Lloyd Wright.
There is so much to see and do in Buffalo. With all of this and so much more, Buffalo should be considered as your next destination.