Tulsa Cheapest Fares
To search and book flights to Tulsa in 2020 and 2021, please enter your requirements and click the search button above.
A northern city with a lot of southern hospitality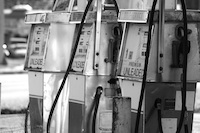 Located in the North-eastern US state of Oklahoma, Tulsa is the second largest city in the state as well as one of the world's leading oil capitals. The city is decorated with a combination of modern buildings and 1920s-style art-deco architecture.
The essential buildings in the city worth visiting include the Boston Avenue Methodist Church, the Art Deco Unio Depot, and the Philtower, which is a magnificent skyscraper along South Boston Avenue. Do not miss the chance to see the Philboork Museum of Art, where the very best of the best in modern art can be seen. There is also the Gilcrease Museum of Western Art, and the Ida Dennis Willis Museum of Miniatures, Dolls and Toys. A daytrip to the Tulsa Zoo will also keep the kids happy.
Other family attractions include Bells Amusement Park where visitors can still catch a thrill on a historic wooden roller coaster or the Tulsa's Big Splash Water Park with its seven-storey tall waterslides. Take in a ball game at the All Star Sports Complex or enjoy a walk along the more than 20 miles of natural scenic trails that surround the city.
Aside from its oil wealth, the city is also renowned for its many festivals. No matter what month Tulsa is your destination, there is guaranteed to be something going on, from farmer's markets to art and cultural events and jazz festivals. Tulsa is a great destination choice in January when the city hosts the annual Longhorn World Championship rodeo, featuring hundreds of cowboys, acts, and a large Western trade show.