Greensboro-High Point Cheapest Fares
To search and book flights to Greensboro-High Point in 2022 and 2023, please enter your requirements and click the search button above.
Peaceful Greensboro Offers Good Holidays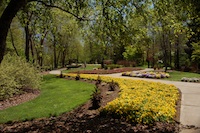 Although Greensboro may be known as a sleepy small town, Greensboro is actually a great destination, with sights worth exploring, especially for travellers interested in history and arts.
Greensboro is home to the University of North Carolina. One of the main things people go to Greensboro is to visit the campus. Take a walk around the campus, which houses the Weatherspoon Art Museum, which exhibits pop art from the 20th and 21st centuries. The museum has a reputation for having one of the leading art collections from the era of the 1900s, so it's definitely worth a visit.
Historically, Greensboro was one of the main cities that took part in the civil rights' movement. This can be seen in the fact that Greensboro hosts the International Civil Rights Centre and Museum, which exhibits the fight and struggle for human rights from all over the world. Also included in the museum are exhibits of the 1960s Greensboro sit-ins, a nonviolent protest which was a major turning point in the civil rights movement. Travellers can visit the site of the historic sit-in which is located on Elm Street.
Greensboro also played quite a major role in the American Civil War in the 1860s. Travellers can find out more about Greensboro's part in the Civil War by visiting the Greensboro Historical Museum, which exhibits the history of Greensboro and Civil War weapons and artefacts. Greensboro also played a part in the American Revolution. Travellers can go to the beautiful Guilford Courthouse National Military Park, which has information on the American Revolution battle that occurred there years ago.
With a rich history and unique culture, Greensboro is a great destination worth visiting.