Little Rock Cheapest Fares
To search and book flights to Little Rock in 2020 and 2021, please enter your requirements and click the search button above.
Stop by and enjoy the Little Rock Riverfest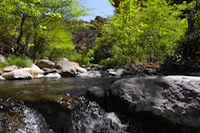 Little Rock has played a major role in the civil rights achievements of the United States. It was the first southern American city to abolish segregation in the public school system. It remains a city that attracts millions of visitors each year who come to enjoy its heroic landmarks and national monuments.
It is for this reason that Little Rock remains a favourite destination with travellers seeking to sample some real American history. The city is perfect for those who enjoy an outdoor experience as the southern city of Little Rock is filled with city parks, parades, and community festivals.
Choosing Little Rock as your destination may be best during the early months of the year. Not only are there great deals on flights, the city streets tend to be slightly less crowded allowing visitors to better take in the local attractions. In case you are wondering, the city streets are busiest with tourists during the months of June, July, and August, which often means extra traffic and longer delays.
The most popular festival in Little Rock takes place each May. Riverfest is a major outdoor music and art festival that kicks off the summer in style. Bursting with local musical talent, southern cooked food, and cultural events, this festival is worth making Little Rock your next destination choice. The festival also shows off its best local talent in art with glass blowers, toy craftsmen, painters, jewellers, and potters, all accompanied with live demonstrations. Watch your unique souvenir being created before your very eyes!