Indianapolis Cheapest Fares
To search and book flights to Indianapolis in 2022 and 2023, please enter your requirements and click the search button above.
See the fastest cars in the world in Indianapolis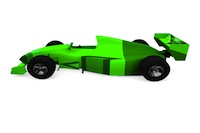 Indianapolis, Indiana, is a destination located south of the Great Lakes area of the United States. Famous for motor racing, this destination is home to the Indianapolis Motor Speedway and the Indianapolis 500 held every year on Memorial Day weekend in May. Races have been run here since 1911, with a break during the two world wars. The race draws between 300,000 and 400,000 fans at the speedway itself, with millions watching on television around the world.
Fans who want to watch the Indy 500 are advised to buy tickets early, for the event is almost always a sell-out. The raceway was paved in bricks, following the original years when races were run on a mixture of rock and tar.
In 1909, more than three million bricks were laid to create a smoother driving surface, and it's at that point that the 'brickyard' nickname became synonymous with the Indianapolis track. A line of original bricks is still used at the finish line itself as a nod to that early track, which remained in place until 1961.
The Indy 500 is a race that should be seen at least once in a lifetime by anyone with an interest in motor racing.
The Indy 500 is unique in that it is so huge it allows camping inside the 2.5-mile oval track. Seating capacity in the stands is more than 250,000 people, but with the numbers allowed into the infield, attendance is much larger. The Indianapolis Motor Speedway hosts other signature events as well, such as the Brickyard 400 (NASCAR Series) and the Red Bull Indianapolis Grand Prix for motorcycle racing.