Mobile Cheapest Fares
To search and book flights to Mobile in 2020 and 2021, please enter your requirements and click the search button above.
Festival lovers are in for a treat at Bayfest, Mobile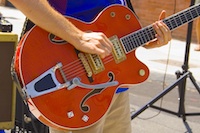 Downtown Mobile will be rocking to the beat over a weekend in October as more than 200,000 visitors flock in for the annual Bayfest. Featuring over 125 live acts, the festival boasts nine stages and is an excellent destination for both well-seasoned festival goers and those who would like to experience their first festival.
Suitable for the whole family, Bayfest offers huge diversity, with acts ranging from Kid Rock to Nelly to Stone Temple Pilots. Every taste is catered for and visitors to the destination will enjoy country, rock, alternative, R&B, jazz, rap and even gospel. The Launchpad stage showcases local talent, giving new acts a chance to shine and make a name for themselves
A non-profit organisation, Bayfest is run by a board of volunteer directors, and funding comes from corporate sponsors. The donations enable the organisers to provide a huge amount of entertainment in one festival, without having to charge an arm and a leg for admission. Also, the festival would not be able to go on without the continued support of volunteers, who help to make the event a success.
The third most populous city in Alabama, Mobile is the only seaport in the region and is located on the Mobile river and the Gulf coast. Visitors to the destination will enjoy the electric atmosphere of the city, which offers much to do including large shopping malls, luxury hotels and a wide variety of great restaurants. A lively destination, the city is the perfect setting for Bayfest.