Santa Barbara Cheapest Fares
To search and book flights to Santa Barbara in 2020 and 2021, please enter your requirements and click the search button above.
Wine Tours in Santa Barbara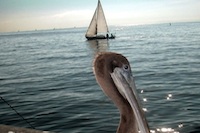 Santa Barbara, California is in a truly enviable location. Sprawling along the west coast of the United States, it is located between the Pacific Ocean and the Santa Ynez Mountains. This gives it a wonderful climate which is pleasant all year round and is often described as Mediterranean. The city has even sometimes been called the 'American Riviera'. Santa Barbara also produces some of the world's best wines, and a wine tour is truly a mandatory part of any holiday to this destination.
Just two hours north of LA, Santa Barbara has 103 wineries. All these are located either within the Santa Barbara city limits or in the areas of Los Olivos, Santa Ynez and Solvang. Some of the more famous varieties produced in this region include Chardonnay, Zinfandel, Merlot and Pinot Noir. Wine tours in Santa Barbara have been crafted to give the tourist an experience that combines some knowledge of the art of wine making and storage, a firsthand glimpse of the process and, of course, some wine tasting.
Most of the larger operators offer their own tours. On a typical tour the guest will be picked up in a van, SUV or even a Cadillac depending on what has been arranged, and will then be taken to three or four wineries and given a tour of the operations, including the vineyards, the bottling areas and the cellars. Wine tasting is usually complimentary and visitors will usually be given a selection of three or four wines to try. The wine tour will usually last about five hours and conclude with a lunch at the last stop or at a picnic spot, after which the guest will be driven back to their pickup point.