Hawaii's number one destination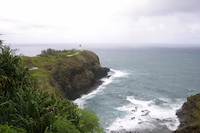 Travel and Leisure Magazine has honoured Kauai Island, Hawaii, naming it the second best island in the world and Hawaii's number one destination in the magazine's annual World's Best Awards. The magazine's readers determine the winners and as it happens, Kauai comes up trumps on a number of qualities but it is the golfers who are most satisfied.
Travel and Leisure Magazine is one of the world's most highly regarded and trusted sources of travel information. In the magazine's listing of World's Best Islands, Kauai ranked second, trailing only behind the Galapagos Islands. The magazine heralds the island's serenity and tropical beauty, as its appeals to travellers.
The magazine's readers are surveyed on five qualities: natural attractions, activities and sights, restaurants and food, people and value. Having won this prestigious award more than once, Kauai sends holidaymakers the strong message that this little island is well worth a visit on all counts.
Kauai offers hiking, mountain tubing, kayaking, snorkelling, horseback riding and helicopter and boat tours. With more than 50 miles of white sand beaches, Kauai has more beach per mile than any other Hawaiian island.
Golf is one the island's main draws. Virtually all of the golf clubs and resorts, at this destination, are rated among the best in their category, with three of the island's golf resorts being listed among prestigious top golf resort lists. With accolades likes these, it is hard to imagine that this little island is largely undeveloped, with only four percent in commercial and residential use.
With so much to offer, it is easy to see why Kauai Island is winning the hearts of holidaymakers time and time again.