Ithaca Cheapest Fares
To search and book flights to Ithaca in 2020 and 2021, please enter your requirements and click the search button above.
Ithaca Falls draws crowds every year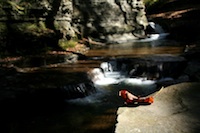 Located in the Finger Lakes region of New York, Ithaca is an American college town that is most well-known for Cornell University and the small, eclectic culture that has grown up around the school. This includes the festival that takes place each year near Ithaca Falls. The natural beauty of the region is unrivalled anywhere in the western part of the state and Ithaca Falls is a must-see for anyone looking for an untouched waterfall.
Unlike most waterfalls that are located in such close proximity to populated areas, Ithaca Falls boasts a tranquil atmosphere. Visitors who hike to the stunning falls, the largest in the region, can spend time meandering over the well-defined trails along the stream, picnicking at the base of the spectacular waterfall or even sunbathe or swim in the cool, crisp freshwater. It is a great place to take the family for a day out on a sunny, warm spring or summer afternoon but just remember that during the winter months it would be a more difficult trek and a much colder one, because of New York's harsh winters.
The waterfall is just one of many that can be found in the Finger Lakes Region, however, so any trip to Ithaca can also include a little investigation into the surrounding parks and recreation areas. Being a college town, Ithaca also boasts an eclectic array of activities, shops and bars that visitors can take advantage of during holiday. Any trip to New York is not complete, without some exploration of the smaller cities located in this stunning state.