Akron-Canton Cheapest Fares
To search and book flights to Akron-Canton in 2020 and 2021, please enter your requirements and click the search button above.
Akron holds a traditional Soap Box Derby every year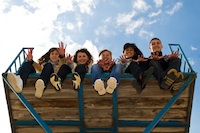 The Akron's Derby Downs race track is the destination for many families as, once a year, the All American Soap Box Derby takes place at the end of July or beginning of August. The event has been going since 1934 and has been aimed at boys and girls between the ages of eight to 17.
The Soap Box Derby originally started in Dayton, Ohio, but was moved to Akron the following year as there are better hills for the running of the races. The event attracts tens of thousands of spectators each year and still has around 500 entrants from most states in the United States, as well as a few designs from overseas who will all take on the 954ft track that was designed for the race.
During the week of racing there are many other activities available for the racers and their families including a parade involving the cars entered and their drivers, time trials, box car clinics and side trips to places like the Akron Aeros baseball game. Often there are celebrities who will attend the derby and previous attendees include Tom Hanks and Jimmy Carter.
There are a number of hotels that are available around the Akron area and there are many other attractions in the area including Akron Zoo, Hale farm and the Cuyahoga Valley National Park. Akron Airport is situated between Akron and Canton and is around 15 miles away. There are plenty of flights available from a number of United Kingdom destination airports to Akron Airport.