Brownsville Cheapest Fares
To search and book flights to Brownsville in 2020 and 2021, please enter your requirements and click the search button above.
Brownsville leads the way in endangered species breeding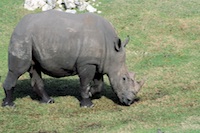 The Gladys Porter Zoo, located in the centre of Brownsville, Texas, spreads across 26 acres of lush landscape. Here, they are renowned for the work they do in breeding endangered species of wildlife and is one of the must-see places should you decide to make Brownsville your preferred holiday destination.
Priding themselves in their work preserving endangered species, the Gladys Porter Zoo works with animals as exotic and varied as Kemp's ridley sea turtles, Philippine crocodiles and Western lowland gorillas. Past work has seen them endeavour to protect Galapagos tortoises, several species of rhino and Matchie's tree kangaroos.
At the zoo, they firmly believe that captive breeding is a last resort and a reaction to the problems humans have caused on the planet. In an ideal world, they hope that the need for their work would cease. Until that day comes, if it ever should, the tireless workers at Gladys Porter Zoo perform a service to which the entire world owes a debt of gratitude.
Visitor-orientated, the zoo and botanical park is the destination of hundreds of thousands of visitors each year, as people flock to see the latest work in the preservation of nature through conservation, research and education. Ideal for the whole family, the zoo, which first opened in 1971, prides itself on helping to educate young people on the importance of wildlife preservation. With numerous schemes aimed at children of all ages, they hope that by raising awareness, they will help protect the animals of the future.