Dallas Fortworth Cheapest Fares
The lowest fare found to Dallas Fortworth (DAL) was £1663 with Air France. The fares shown here are the lowest flight prices to Dallas Fortworth obtained in actual searches by Just The Flight customers. To search and book flights to Dallas Fortworth in 2022 and 2023, please enter your requirements and click the search button above.
Peter Rabbit's Flower Village: An Annual Dallas Original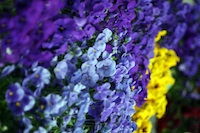 Summer at the Arboretum is an annual event for Dallas, Texas. Launched each year at the beginning of May, the event transforms the pecan grove at the Dallas Arboretum into a charming story book village taken straight from the pages of Beatrix Potter's beloved series of children's stories. Also known as Peter Rabbit's Flower village, this destination's main attraction is a floral village with houses constructed of flowers. Scattered amid the houses are characters from the Peter Rabbit stories crafted in topiary. Children find the scene delightful and scamper from house to house finding beloved figures such as Squirrel Nutkin, Jemima Puddle-Duck, and Mrs. Tittlemouse living in the thatched-roof English cottages.
For two weeks during each of the months of May, June, and July, a life-sized Peter Rabbit character is on hand to welcome visitors to the arboretum. Guests can see him in the main plaza, and photos with Peter Rabbit can be taken free of charge. Peter Rabbit books are on sale in the Hoffman Family Gift Store at the arboretum during the event, which is intended to promote children's literacy and foster a love of the written word.
A favourite Dallas destination, Summer at the Arboretum annually draws visitors to Texas from across the nation and abroad. After viewing the delightful flower village and peering into the houses at the realistic artefacts inside, guests can explore more than 40 additional acres of gardens planted with varieties such as impatiens, cleome, begonias, salvia, and zinnias.