Burlington Cheapest Fares
To search and book flights to Burlington in 2020 and 2021, please enter your requirements and click the search button above.
Discover Jazz in the town of Burlington, Vermont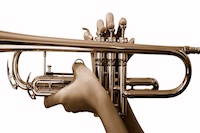 A popular summer event, the annual Burlington Discover Jazz Festival showcases everything from local talents to jazz legends from all around the world. The festival has been established for more than a quarter of a century and offers world class performances: the legendary Ella Fitzgerald and Dizzie Gillespie performed there, for example.
Visitors to the destination will be astonished as every square inch of the town seems to resound with music. The ten-day event is traditional and reflects the talent of Vermont's vast jazz community. The city comes alive with dazzling performances at intimate venues, parties, concerts by the waterfront, Lake Champlain cruises, master classes and workshops. Ideal for families, couples and singles alike, the festival is a fantastic destination for both committed jazz enthusiasts and those who simply wish to soak up the festival atmosphere while sampling a new type of music.
Acts who have performed at the festival include Sonny Rollins, Madeleine Peyroux, Jay Clayton and Sheila Jordan, to name just a few. Fantastic venues such as Burlington's premier performing arts facility, the Flynn Center, as well as the Waterfront and City Hall Parks are involved. Everybody gets into the spirit, with local restaurants and clubs also joining in the fun with their own events.
As one of the largest annual festivals in Vermont, the festival relies on generous donations from local businesses and private donations. New visitors to the festival help to keep it thriving and once visitors have sampled the lively atmosphere, they just want to keep coming back.