Anchorage offers Great, Relaxing Vacations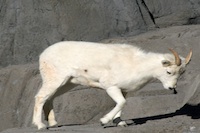 Many times, people go for vacations just to get away from their hectic and busy lives, to relax and just forget about everything. There are some destinations that cater for this kind of vacation, and some vacations are so fast-paced that they become far from relaxing. Anchorage is a case of the former.
One of the things Anchorage, and in fact Alaska is known for is diverse wildlife. Near the Anchorage area, one can find many wild animals such as Dall sheep, bears and moose. In fact, it is a common sight to see bears and moose in populated areas in Anchorage. However, for the experience of spotting wildlife, one should head over to the national parks in the Anchorage such as Denali and Katmai National Parks. One could also spot Dall sheep by driving down the Seward Highway.
Speaking of wildlife, Anchorage hosts the Alaska Wildlife Conservation Centre. The Conservation Centre is worth a visit for nature-lovers, as it is a refuge for injured, ill or orphaned animals such as bison, moose and bears. These animals are contained within a fenced exhibit, just like a zoo, which the children will enjoy immensely.
Anchorage also hosts the Alaska Native Heritage Centre. This Heritage Centre hosts very interesting exhibits, including a stage where natives dance and a trail which leads guests around a lake to show them how the natives live in Alaska, a very interesting experience indeed.
Whether it's taking time to explore wildlife or learning about the natives of Alaska, or even just sitting back admiring the snow-capped mountains surrounding Anchorage, Anchorage is a great destination for a slow, relaxed vacation.