Knoxville Cheapest Fares
To search and book flights to Knoxville in 2020 and 2021, please enter your requirements and click the search button above.
Boomsday in Knoxville, Tennessee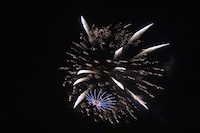 Knoxville, Tennessee is situated very close to the legendary Smoky Mountains and offers up a varied platter of choices for the discerning traveller. Some of the notable attractions are the Knoxville Zoo, the Turkey Creek Shopping Center, and the popular West Town Mall. Travellers spending Christmas in this city will find that it offers an entire month of festivities. The most spectacular attraction Knoxville has to offer, however, is the Boomsday Weekend – a fireworks extravaganza that will blow any traveller's mind.
The fun takes place on Labor Day, and starts off at Volunteer Landing. There is food to suit every taste from over 30 different vendors, games, rides, activities for the kids, and even a stage for audience participation. The excitement builds as night falls and everyone converges onto the waterfront at Neyland Drive for the fireworks display. The audience for this event includes visitors from across the United States and the world, including dignitaries from Europe and Asia. In past years, this event has drawn between 300,000 and 350,000 spectators.
At precisely 9:30 pm, the largest fireworks show in the south-eastern United States gets underway. Thousands of fireworks soar, swoop, and sparkle in seeming abandon which nevertheless is perfectly choreographed to a stirring soundtrack. Accolades for this extravaganza have come from National Geographic Magazine, which did a special feature on it, and from the Southeast Tourism Society, which selected the Boomsday Festival as one of their 'Top 20 Events' in September 2006 and 2007.