Ontario, California – Mountain Adventure Playgrounds.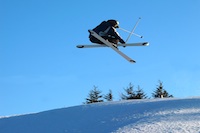 Ontario, California's mountain adventure playgrounds offer exciting alternatives to nearby Los Angeles.
This destination is known as "the Gateway to Southern California", as Ontario lies within easy reach of Palm Springs, Disneyland and the Angeles National Forest.
Two popular ski areas are the Mount Baldy Ski Area, less than 30 minutes away, and the Big Bear Mountain Resort.
The refurbished Hilton Ontario Airport Hotel offers a range of first class accommodation, and is perfect for access to Mount Baldy (Mount St Antonio) – the steepest and largest ski resort in Southern California, covering 800 acres.
Mount Baldy Resort has 26 ski runs on three mountains, as well as a number of hiking trails of various difficulties to the summit. The resort has facilities for experienced as well as novice skiers, who can take lessons in skiing and snowboarding. Rock climbing and bouldering can also be experienced all year round in the foothills.
In winter, snow climbing can be a welcome challenge, with experienced climbers enjoying the challenge of tackling the Baldy Bowl, with its steep sections of 45 to 50 degree slopes.
On Labor Day, Ontario also hosts a sponsored 13 kilometre race to the top of Mount Baldy.
Bear Mountain Resort, perfect for beginner and intermediate skiers, is an alternative, with four mountain peaks ranging to 8,000 feet. Snowboarding is catered for, and the longest run is one and a half miles long.
Besides having its own airport, Ontario has a Metrolink station, with connections to destinations such as Los Angeles, Orange County and the San Fernando Valley.