The Santa Ana River Trail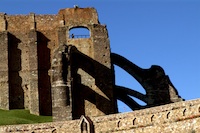 Santa Ana, California is one of the oldest cities in the state, offering the Los Angeles, Long Beach, and Santa Ana metropolitan areas as a destination for holiday travellers. Holidaymakers who enjoy cycling will want to explore the Santa Ana River Trail.
The Santa Ana River Trail is 120 miles (193.121km) of trail running through Riverside, San Bernardino, and Orange counties. The trail is the largest bike path in the United States and considered a social boulevard. School children, workers, runners, walkers, bird watchers, horse riders, and bike riders all use the trail throughout the year.
California offers one of the warmest climates, especially around the Los Angeles area, all year round. There is no specific month to visit the trail or greater Los Angeles area given the warm, sunny weather. The trail will be open for the full 120 miles, unless repairs are needed along a particular section. From the trail picnic tables, parks, local restaurants, and historical structures can be enjoyed.
The bike path runs through downtown Santa Ana and along the beach. A few of the local historic and cultural spots include the Artist Village and Civic Centre, Heritage Museum, Bowers Museum, Discovery Science Centre, Delhi Park, and El Salvador Park. The Santa Ana Zoo is a place of interest a few minutes from Santa Ana River Trail.
In less than 30 minutes, travellers to Santa Ana can be in Los Angeles seeing movie studios or be closer to Disneyland for an adventure for the entire family.