Missoula Cheapest Fares
To search and book flights to Missoula in 2020, please enter your requirements and click the search button above.
Visit the Wild West in Missoula, Montana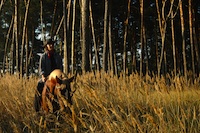 What comes to mind when you think of the Wild West? For many, it may be the state of Texas, but cowboys and Native Americans dominated many other areas of the United States during this period. Every year this western heritage is celebrated in grand style in the town of Missoula, Montana. A two-day event in the middle of August gives locals and tourists alike a chance to see what it might have been like to live back in the days of the Wild West. This is a destination that feels not just like another place, but another time as well.
The festival has something for everyone. Many of the activities are ones that tourists can directly participate in, such as horse riding and gold panning. With a little bit of luck, you might find a flake of gold or even a tiny nugget, but bring your patience as you try the life of a gold miner in the 1800s. Other events allow you to relax and enjoy the show, from rifle shooting demonstrations to simulated gunfights, and Native American pow-wows where authentic dances of the Wanbli-Eagle tribe are performed.
When hunger strikes, head over to the chilli cook-off and see just how much spiciness you like in a cowboy meal. A flower show and an exhibition of Montana quilting provide more sedate activities but tourists who want to kick up their heels should make sure to make a destination of the Frontier Ball and learn a few western dances they can take home and share.