Moline Cheapest Fares
To search and book flights to Moline in 2020 and 2021, please enter your requirements and click the search button above.
Moline celebrates its agricultural heritage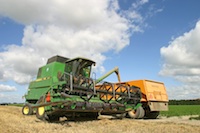 Agricultural heritage is alive and well in Moline, Illinois. The city with a population of roughly 40,000 people boasts that is has small town charm and big city excitement as part of their campaign to attract visitors. The area was one largely agricultural in nature and, to this day, the city celebrates this with their dedication to parks and recreation, and their honouring of their farming past at a national museum for the John Deere company.
Moline has more than 728 acres dedicated to parks and recreation. With 18 parks in total, the city is filled with recreational options for visitors and locals alike. From youth sports games to scenic trails, from aquatic parks to luxury excursion riverboats, the area is filled with exciting activities for all ages and interests.
No visit to Moline is complete without a visit to the John Deere Pavilion. Packed full of exhibits that celebrate the farming heritage of the area, the museum holds exhibits of agricultural implements throughout history. There are tractors and combine harvesters, ploughs and other machinery, all of which are on exhibit as a way to pay homage to the industry that changed the way we farm and particularly the men and women who farmed lands in the Midwest for generations. The museum offers visitors the opportunity to celebrate this heritage at its various events and special exhibitions throughout the year.
Whether looking for a fun night out on a riverboat or a day at a classic American park, the city of Moline is sure to please those looking for a less-hectic place to holiday.