Albuquerque Cheapest Fares
The lowest fare found to Albuquerque (ABQ) was £1348 with Air France. The fares shown here are the lowest flight prices to Albuquerque obtained in actual searches by Just The Flight customers. To search and book flights to Albuquerque in 2022 and 2023, please enter your requirements and click the search button above.
The Albuquerque International Balloon Fiesta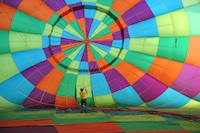 For over 30 years, during the first week of October and lasting for around nine days, the Albuquerque International Balloon Fiesta, one of the world's most mesmerising attractions and the largest annual international event in America, fills the air of the New Mexico destination of Albuquerque with the magical and silent beauty of hundreds of colourful hot air balloons. Tens of thousands of visitors flock every year, from all corners of the world, to celebrate the spectacular art of hot-air ballooning.
Beginning in 1972 with just 13 balloons and which were launched from the parking lot of an Albuquerque shopping mall, the Balloon Fiesta, as it is known, grew into a festival of multiple events. It now has a 365-acre, custom-designed Balloon Fiesta Park to call its home. The main event is still the glorious Balloon Fiesta where over 700 balloons and 1,000 pilots are launched into the skies at the same time, making it the largest and most photographed festival on earth.
Children are mesmerized and left catching flies with upturned heads at the special shaped balloons such as Airabelle, the Creamland Dairy cow or the Wells Fargo Stagecoach, the Space Shuttle and the Energiser bunny flying side by side with Darth Vader. All take part in the special shapes rodeo which has, in recent years, become an important part of the fiesta. Be warned: your children will not leave you in peace until they partake in a balloon ride.