Asheville Cheapest Fares
To search and book flights to Asheville in 2020 and 2021, please enter your requirements and click the search button above.
Bele Chere Festival in Asheville-Hendersonville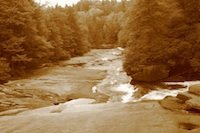 The destination of Asheville is located in the mountains and is the largest city of North Carolina. There are three regions, coastal, piedmont, and mountains. The coastal region offers water sport facilities, whilst the piedmont is flat, agricultural land. The Smoky Mountains are impressive to see on a holiday, and this can be enhanced with a visit to the annual Bele Chere Festival.
The Bele Chere Festival is held annually in July at Asheville Parks and Recreation and is a celebration of the region's art, music, and culture in downtown Asheville. Every year the park provides Bele Chere raft rides for children who want to get wet and cool off from the summer heat. Bele Chere is more than raft rides, it is also a free street festival that usually sees 350,000 visitors annually.
Six stages are set up throughout the streets that are cordoned off for the weekend event. These stages host a variety of music and entertainment choices throughout the three day event. A playland for children is set up in one of the nearby fields providing playgrounds, sports fields, and children's activities.
Every year Bele Chere Festival holds the Bele Chere Urban Challenge for 12 contestants. These contestants live on Challenge Island that is set up in the middle of the festival. They must remain on the island for all three days. Competitions test strength, creative thinking, and other skills until only one person is left standing. Food such as North Carolina barbeque, funnel cakes, and Coke are served throughout the various food tents as well.