Binghamton Cheapest Fares
To search and book flights to Binghamton in 2020 and 2021, please enter your requirements and click the search button above.
Spiedie Fest and Balloon Rally Returns to Binghamton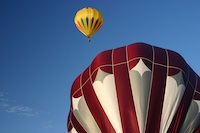 For more than 25 years, every year, early August has been the time when the Spiedie Fest and Balloon Rally returns to Binghamton, New York. Taking place in beautiful Otsiningo Park, the festival is a community run event that offers a wide variety of activities. One of the most popular events of the summer, the Spiedie Fest and Balloon Rally draws more than 100,000 people to this destination where they attend open-air concerts and watch hot air balloon crews compete against one another.
There is no need to leave the park during the day, since this festival comes complete with an array of food vendors eager to share regional culinary delights with the visiting crowd. Crafts stands are also available to entertain both adults and children. In a typical year, more than 200 crafts vendors display wares such as pottery, paintings, and handmade jewellery. Mechanically-minded men and boys may like to spend the bulk of their time at the antique car show that forms part of the festival, where more than 400 cars and trucks from the north-eastern section of the United States are exhibited.
For those more interested in active events, there is a sand volleyball tournament as well as a five-kilometre run that participants are welcome to take at a walking pace if they prefer. A children's area provides rides and clowns for the little ones, and capping off the event is the Spiedie Cooking Contest for which this Binghamton festival is named. All in all the Spiedi Fest and Balloon Rally makes for an exciting destination for everyone.