Amarillo Cheapest Fares
To search and book flights to Amarillo in 2022 and 2023, please enter your requirements and click the search button above.
Are you up to the Texan Steak Challenge?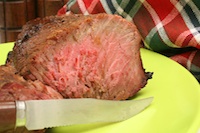 There are many things which people enjoy on their holidays, but by far the most universal is great food and that's where Amarillo, Texas comes in to its own as the number one destination for steak lovers.
Home to the gut-busting, world-famous Texan Steak challenge, Amarillo's Big Texan Steak Ranch dares you to polish off a 72oz steak (as well as the trimmings which include salad, bread, baked potato and shrimp cocktail) in under an hour. Manage it and your meal is free.
This being the 21st century, the Big Texan Steak Ranch now uses webcams so that your loved ones and friends back home can watch you live as you try to devour your way through more meat than you've likely seen before.
The Steak Challenge was inspired by the story of a hungry cowboy who came through the doors of the restaurant saying he could 'eat the whole darned cow', and actually succeeded in eating 4.5 pounds of beef.
Since that day, tens of thousands of people have tried to take the challenge, travelling from around the world to prove that they could match restaurant founder Bob Lee's challenge. Few have made the Big Texan Champions list.
From the canyons to the steaks, the key word in Amarillo, as with the rest of Texas, is 'big.' If you decide to make this one of your holiday destinations, make sure you take up the challenge to see just how big your appetite is.