Palm Springs Cheapest Fares
To search and book flights to Palm Springs in 2020 and 2021, please enter your requirements and click the search button above.
Enjoy a Relaxing Getaway in Palm Springs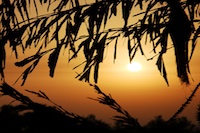 Deemed to be one of California's premier destination playgrounds, Palm Springs is the place to enjoy year-round fun. Its climate remains constant without any distinction between the seasons as daily temperatures hover around the 100 degree mark. This lack of distinction makes it an ideal place to visit any time of the year.
For those catching springtime flights you will be arriving at the beginning of the prime flower season as well as the main season for many of the tennis and golf tournaments. Flights to Palm Springs land at the Palm Springs International Airport, which is the second busiest airport in southern California.
One of the attractions Palm Springs is known for is its many luxurious golf courses, country clubs and spas. Celebrity sightings are also common for those who enjoy a little Hollywood excitement now and then. With so much going on, a Palm Springs destination still means visitors will enjoy some seclusion mixed with a lot of relaxation.
Palm Springs is best seen by car, so once you arrive, consider car hire. Although the city is navigable on foot it was designed for touring by car. Having a car also makes getting around outside town easier. There are many attractions in the area including the famous Joshua Tree National Park. There is also the Chino Canyon and Mount Station that can be seen via the Palm Springs Aerial Tramway. Enjoy a canyon view as you ascend 8,516 feet in only 20 minutes.