St Louis is your gateway to fun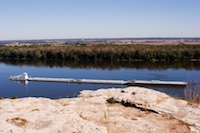 St Louis, Missouri, is a destination on the Mississippi River that offers unlimited attractions, but one very unique event takes place during September every year, and that's the St Louis Pirate Festival.
For a week each year, Rotary Park just outside St Louis, becomes a Caribbean pirate hideaway, and visitors are invited to take part in the fun.
This annual event is one that's fun for the whole family. Storytellers abound, of course, but there are activities, food and drink for all ages.
Adults can sample some 'pirate' rum, while the younger ones can have non-alcoholic delights. There are, of course, rides in ships and boats of all sizes, most of which sport the Jolly Roger flag with its skull and crossbones. Entertainers fill the park and spill over into the neighbourhood streets. Many of them will amaze and delight the children, such as the jugglers, stiltwalkers, and ventriloquists.
The 'governor' of the area starts the festivities off by inviting the pirates to 'Fort Royal' to turn them from pirates to privateers – a fine line they'll need to walk. The 'pirates' appear in full regalia, and it's almost mandatory that anyone at that event learns to speak like a pirate. Aye, matey!
From there, visitors can wander throughout the park at their leisure, sampling food and drink, talking to some of the many pirates – privateers – walking about, and enjoying the sunshine and outdoors in beautiful destination of St Louis.