Baton Rouge Cheapest Fares
To search and book flights to Baton Rouge in 2020 and 2021, please enter your requirements and click the search button above.
Mardi Gras in Baton Rouge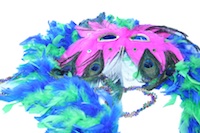 The historic town of Baton Rouge has much to offer as a holiday destination, but without doubt, its star attraction is the annual celebration of Mardi Gras. While other festivals, such as Louisiana Earth Day, the Pennington Balloon Festival and FestforAll, draw large crowds, it is Mardi Gras that is the biggest of them all.
Each year carnival celebrations take place around the time of Epiphany and culminate on the day before Ash Wednesday. Deriving from the French for 'Fat Tuesday,' Mardi Gras remembers the practice of enjoying rich and fatty foods before the ritual fasting of Lent. In modern times, the term has come to represent a massive street carnival where people of all ages, genders, and nationalities come together in an eclectic mix of costumes to dance, sing and enjoy the great company of strangers.
In Baton Rouge there is not just one festival to choose from, but many, where you can enjoy the music, costumes and floats of those in the parade. Kicking off with a fancy ball, Mardi Gras is perfect for the entire family and as a holiday destination is second to none for providing fun and entertainment. Marvel at the marching bands and dogs dressed in a variety of costumes and look out for celebrities and distinguished guests taking part.
With so much to see and do in Baton Rouge, let the Mardi Gras calendar dictate your holiday and take part in one of the best known festivals in the world.