Chicago Cheapest Fares
To search and book flights to Chicago in 2020 and 2021, please enter your requirements and click the search button above.
Chicago, the jazz capital of the world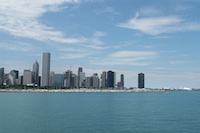 Chicago is an important American holiday destination and is renowned for its history, culture, and professional sports. Found alongside beautiful Lake Michigan, Chicago has a lot to entertain its visitors. More than just a business centre of skyscraper buildings, the people of Chicago also enjoy miles of sandy beaches and some of the country's top sporting events.
Often referred to as Queen of the Lake, Chicago is home to some of the tallest buildings in the world. It is also a diverse cultural city with Polish, Italians, Irish, Mexicans, Germans, and Asians making it an interesting place to visit. This massive diversity has only added to the cultural aspect of what Chicago has to offer. This diversity is one of the reasons Chicago is the jazz capital of the world.
Chicago is serviced by two airports making flights to this great city easy to find. O'Hare International is the main airport and is one of the busiest in the world with more than 75 million people passing through its terminal gates each year.
If you are planning on Chicago for your next holiday, consider a summer visit. During the month of June, the city puts on its most distinctive festivals of the year. The Gospel Festival, the Chicago Jazz Festival, and the Chicago Blues Festival are enough to keep visitors from all around the world tapping their toes to the sounds of local tunes. These massive festivals take on a life of their own and are accompanied with numerous activities and mountains of food.