Dayton Cheapest Fares
The lowest fare found to Dayton (DAY) was £620 with American Airlines. The fares shown here are the lowest flight prices to Dayton obtained in actual searches by Just The Flight customers. To search and book flights to Dayton in 2020 and 2021, please enter your requirements and click the search button above.
Premier aviation event set for Dayton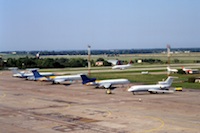 One of America's premier aviation events takes place in Dayton, Ohio. The Dayton Air Show is an annual event celebrating this destination's aviation heritage, attracting tens of thousands of people.
It is where Wilbur and Orville Wright began their pioneering quest for the sky. Approximately 80,000 people flock to Dayton every year, to watch some of the world's best military and civilian pilots in action.
Performers have included the US Air Force Thunderbirds, the US Navy Blue Angels, the US Army Golden Knights and Sean D. Tucker. Aircraft such as the F-18 Super Hornet, the B2 Spirit, the B52 Stratofortress and the A10 Thunderbolt fly overhead. Static displays and ground attractions add to the atmosphere.
The air show also provides a kids' hangar for families to chill out, while tots play in the sandbox or get their faces painted in the shade, and an aerospace adventure programme with hands on activities, experiments and demonstrations for older children.
For aviation buffs, there is no better way to spend a holiday than attending the Dayton Air Show. With re-enactments of Pearl Harbour, acrobatic flying from planes and helicopters, wing walking from the only all-women act, skydiving, a jet powered school bus and helicopter rides, it is a flight enthusiast's dream.
Dayton has numerous aviation museums, to while away the time for the remainder of any journey. Dayton also lays claim to a number of acclaimed restaurants and caters to a broad spectrum of palettes. Classic car and art galleries, farms and discovery museums provide something for the rest of the family. It is a destination that exudes mid western charm with more than just a hit of culture.