Green Bay Cheapest Fares
To search and book flights to Green Bay in 2020 and 2021, please enter your requirements and click the search button above.
Home to the annual Savour Green Bay Festival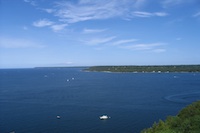 Being the oldest city in Wisconsin, Green Bay still displays its native trading posts and waterways of the Fox River. Dating back to the 1600s, the city remains known for its beaver pelt hats and splinter-free toilet paper.
If Green Bay is your next destination choice; you will immediately notice it has been blessed with many natural resources. Although it continues to play a major role in the local shipping industry, Green Bay is also known for its contributions in agriculture. It is also the smallest city to have its very own National Football League, The Green Bay Packers that have been in existence since 1919.
Flights to Green Bay will take you into the north-eastern portion of Wisconsin. Aside from the stunning Bay of Green that it lies along, you will also be less than an hour from beautiful Lake Michigan.
The area has several major attractions to share with those who visit. Take in the Heritage Hill State Historical Park, the Neville Public Museum, or the Green Bay Botanical Gardens. There is also the National Railroad Museum and Lambeau Field to enjoy for a day. For the kids in your group, do not miss a chance to see the zoo.
Making Green Bay your destination means taking in a little local culture. During the summer month of July, the annual Savour Green Bay is hosted by the city. It is a fun filled weekend of food and drink together with traditional music, offering an all-round lifestyle experience.