Boise Cheapest Fares
To search and book flights to Boise in 2020 and 2021, please enter your requirements and click the search button above.
Hot Air Ballooning Comes to Boise, Idaho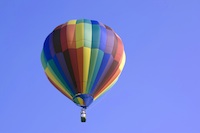 Idaho is famous for more than potatoes. From late August and early September, each year brings the Boise Balloon Classic to the capital of this Midwestern state. The largest hot air balloon festival in the central United States, the Boise Balloon Classic annually welcomes dozens of crews to the launch site at Ann Morrison Park where they spend several days demonstrating the art of navigating, while using little more than a flame and their wits.
Special events during the Balloon Classic include children-friendly demonstrations designed for both younger children and pre-teens. The balloon crews discuss the mechanics of ballooning, including such diverse topics as dealing with the weather, coordinating chase teams, and how to launch and lift off in a hot air balloon.
Another key event that draws crowds to Boise is the Balloon Classic Night Glow, which involves a launch after dark of dozens of balloons lit up from the inside to glow in the dark. Each year also includes a navigational challenge, in which balloon pilots are required to land back at the launch site, a feat which requires creative use of wind currents since the balloons have no true steering mechanism.
The Boise Balloon Classic was created to celebrate the first flight in Idaho, more than 100 years ago, but includes other events such as a concert in the park, a flyover by military aircraft, and displays of aviation history. All events are open to the public and free of charge.