San Antonio Cheapest Fares
The lowest fare found to San Antonio (SAT) was £844 with United Airlines. The fares shown here are the lowest flight prices to San Antonio obtained in actual searches by Just The Flight customers. To search and book flights to San Antonio in 2020 and 2021, please enter your requirements and click the search button above.
Viva Fiesta in Texas!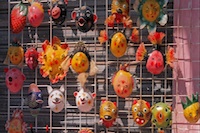 San Antonio's history stretches back hundreds of years, settled originally by Native Americans and then by the Spanish in the 17th century. Perhaps this destination's biggest claim to fame is the Alamo, the site of the infamous battle between the Texan defenders and the Mexican army. The highlight of the town's year is the annual Fiesta of San Antonio which takes place in the last two weeks of April, a brilliant time to visit the destination, when the whole place takes to the streets in an orgy of colour, flowers and music. The fiesta celebrates the city's diverse heritage and has parades, flower laden floats along the river, and numerous arts events so there is something for everyone to enjoy.
San Antonio's Fiesta began in 1891 when a group of ladies decorated their horse drawn carriages with flowers and paraded in front of the Alamo, pelting one another with flowers. This was the beginning of a festival to honour those lost at the Alamo and the Battle of San Jacinto but, over time, the Fiesta has developed into a celebration of San Antonio itself although that original commemoration is still the start of the festival.
The Fiesta raises money for the city and there are numerous parades, exhibitions, talks and events over the course of the festival so festival-goers should plan their time carefully to ensure they catch everything they want to. There are food celebrations, dance contests, educational events and innumerable parades. In fact, the only problem with the San Antonio Fiesta is deciding which events to attend.