Panama City Cheapest Fares
To search and book flights to Panama City in 2020 and 2021, please enter your requirements and click the search button above.
Jazz by the Beach in Panama City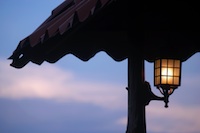 Panama City welcomes visitors with some great music, atmosphere and colour to the Seabreeze Jazz Festival. This ocean-side destination is host to this festival of music in April every year. With an expected 20,000 people from all over the world attending, the event will feature some of the best known names in contemporary jazz, including headliners George Benson, Norman Brown and the guitarist Peter White.
Panama City is a tropical city, located in Florida and connected to the world by international flights landing at the Northwest Florida Beaches International Airport. The venue is a quiet and relaxing beach destination away from the hustle of the big city but all of that changes when the music festival comes to town. Panama City by day offers fabulous water sports and oceanic eco-tours, including a chance to swim with dolphins at the Gulf World Marine Park. The city's efforts to conserve its wildlife rewards visitors with the opportunity to see the area's flora and fauna in all its natural splendour. By night, the city comes alive with the sights and sounds of jazz and salsa at the elegant restaurants, clubs and tiki lounges.
With special events like jazz cruises and meet-the-artist nights, the Seabreeze Jazz Festival features an all-night performance by its headline artists with ensemble, solo and impromptu jams across the city. Jazz and dance parties spill over to the beach where the party carries on through the night until the sun comes up on the Gulf Coast.