Chengdu Cheapest Fares
To search and book flights to Chengdu in 2022 and 2023, please enter your requirements and click the search button above.
Visit the Colourful Dragon Boat Festival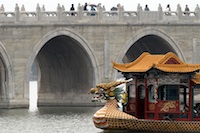 Make Chengdu, China your destination to experience the Dragon Boat Festival, an annual event that uniquely celebrates Chinese culture. It commemorates the death of Qu Yuan, an ancient Chinese poet who is well remembered throughout the region. You will not want to miss the boat races that provide a lot of excitement for all attendees.
The exact date of the Festival varies each year, due to the lunar reckoning of the months in the Chinese calendar. It is held during the fifth month of the Chinese calendar. The poet is remembered as a Chinese patriot who died trying to save his country from corrupt leaders. He died by drowning himself in the river, and the boat races commemorate the efforts of local fishermen in Chengdu, China rushing to save him.
One of the things that impresses people the most about the Festival is the boats themselves. They are very ornate, and designed especially for racing. A spirit of friendly competition is present at the race, held on the Nanhe River, which gives foreign visitors a good taste of authentic Chinese culture. The river has a slow-moving but steady current, which provides ideal rowing conditions for the race.
At the start of the race, firecrackers are shot off to create a festive atmosphere. The boats are rowed by area teams. Each team has its own supporters who cheer them on throughout the whole race. The finish line for the race is at a destination downriver, and the riverbank makes a good vantage point to watch the race.