Chongqing Cheapest Fares
To search and book flights to Chongqing in 2020 and 2021, please enter your requirements and click the search button above.
Dragon Boat Festival is huge annual event in Chongqing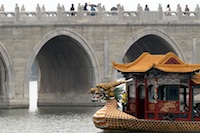 The city of Chongqing is one of five national central cities in the People's Republic of China. It was once the provisional capital of China and as such has plenty of historical sites of interest, as well as many other attractions, making it a great destination for tourists. For visitors who wish to experience a little culture while in the area, the Dragon Boat Festival is a thrilling and spectacular time to be there.
Traditionally held on the fifth day of the fifth lunar month, the Dragon Boat Festival has unclear origins, with probable roots in ancient China. The most popular legend is that the festival is a tribute to the statesman and poet, Qu Yuan, who committed suicide by throwing himself into the Miluo River. Due to his popularity, locals threw lumps of rice to the fish to prevent them from eating his body. This is thought to be why zongzi, sticky rice dumplings stuffed with various fillings, are eaten during the festival.
The Dragon Boat races are the highlight of the entire celebrations, with brightly painted boats, shaped with dragons heads and long tails, competing to grab a flag at the end of a course. The boats can be up to 100ft long and are powered by up to 80 rowers. Before each boat is launched its dragon must be brought to life in a ceremony, which involves eyes being painted on its head.
Though a great destination to visit at any time of year, the Dragon Boat Festival is sure to be the highlight for anyone in the city while it is taking place.