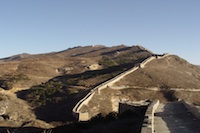 Book cheap flights to China by selecting an airport destination in China below. Compare flights to China from over a hundred airlines worldwide and book online with us today.
China is located in East Asia and shares borders with the East China Sea, Korea Bay, the Yellow Sea and the South China Sea. It has land borders with Afghanistan, Bhutan, Burma, India, Kazakhstan, North Korea, Kryrgyzstan, Laos, Mongolia, Nepal, Pakistan, Russia, Tajikstan and Vietnam. Beijing, the capital city, is situated in Northern China and is home to Beijing Capital International Airport, the second largest airport in the world. Other major airports are located at Chongqing, Chengdu, Hangzhou, Dalian, Hohhot, Harbin, Qingdao, Kunming, Tianjin, Shenyang, Xiamen, Urumqi and Xi'an.
The tourism industry in China is immense and there are so many fabulous attractions that it is little wonder so many choose to visit year after year. Some of the most popular attractions include the Great Wall; the Forbidden City, which is the biggest and best-kept group of palaces in China; Yellow Mountain, with its hot springs; the Dian Chi Lake and the Potala Palace. The country's major cities offer a wealth of museums, temples, sculptures and gardens, perfect for tourists wishing to immerse themselves in the rich history of the country.
China has the largest workforce in the world, which is split more or less evenly between industry, agriculture and the service sector. It is the world leader in the production of crops such as rice, wheat, potatoes, corn, peanuts, tea, millet, barley, apples, cotton and oilseed. China is also a rapidly expanding exporter of a wide range of commodities that include electrical machinery, clothes and textiles, iron and steel and medical equipment.