Ningbo Cheapest Fares
To search and book flights to Ningbo in 2020 and 2021, please enter your requirements and click the search button above.
Ningbo seaport's top Attractions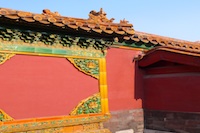 Tianyi Pavilion Museum, Baoguo Temple, Tian Yi Square and many more attractions fill the destination of Ningo, China, making the seaport city a charming and historical destination for UK holidaymakers. Historically, Ningbo is one of the oldest cities in China dating to 4800 BC. It was well known as a trade city when the Silk Road was most active. It remains an important port city for the country both for trade and tourism.
At any time of year, Ningbo can be visited and the historical sites toured. Tianyi Pavilion Museum is foremost on the list of attractions which are open daily. It is situated in the Moon Lake area. Tianyi was built as a library in 1516. It has the distinction of remaining the oldest surviving library building founded by Fan Qin. The collection inside includes handwritten copies of Confucianist classics and rare historical texts. The garden and outbuildings offer further attractions to the museum for tourists.
Baoguo Temple is 15km outside of Ningbo in Jiangbei District. The temple is the oldest wooden structure still intact in southern China. It is a Mahayana Buddhist Temple dating to 1013 CE built during the Northern Song dynasty.
Tian Yi Square is a newer construction and most noteworthy for its shopping. It is the largest multi-function square in the whole of China. Retail stores, electronics, souvenirs, supermarkets, and restaurants line the square. Tourists hoping to find fashionable Chinese clothing and other Chinese souvenirs only need to visit Tian Yi Square.