Hangzhou Cheapest Fares
To search and book flights to Hangzhou in 2020 and 2021, please enter your requirements and click the search button above.
You Will Fall in Love With Hangzhou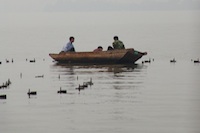 Hangzhou in China is an important city, being the capital of the province of Zhejiang. Although it is a large city, Hangzhou is unique because a large part of it remains unspoiled. Its proximity to the major city of Shanghai make it a popular day trip destination for travellers visiting the bustling metropolis of Shanghai to experience a part of China that is naturally unspoiled.
Hangzhou is known for its beautiful scenery, most notably its West Lake. Hangzhou's West Lake is a large lake which houses many natural wonders in the surrounding area known as the West Lake Scenic Area. Take a stroll around the lake, admiring the natural scenery along the way, or hire a small boat which will take you around the lake and Lesser Yingzhou Isle, allowing you to see some interesting sights. There are lots of natural attractions around the lake, including the Mid-Lake Pavilion, the oldest island in Hangzhou. At night, don't miss the "Impression West Lake" show, a love story performed on the lake, complete with special effects.
Besides its natural wonders, Hangzhou is also known for its cultural heritage. Visit the Six Harmonies Pagoda, one of Hangzhou's most prominent pagodas with a nearby park housing several realistic replicas of the world's most famous pagodas. Also visit Lingyin Temple, which is one of China's most prominent and famous temples. There are also many other temples and pagodas in Hangzhou worth visiting, such as the Leifeng Pagoda and Baochu Pagoda.
Hangzhou offers plenty to the traveller looking for unspoiled natural beauty and a relaxing vacation. For this kind of vacation, Hangzhou is truly one of the best destinations.