Wuhan, Central China – A Surprising New Travel Experience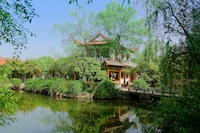 Like many cities in China, Wuhan has a history that stretches back over 3,500 years, yet it still boasts a range of modern accommodation to suit every budget, from luxury five star hotels right through to economy class lodgings.
Known as the city of "White Clouds and Yellow Crane", Wuhan acts as a transport hub for air, rail and ferry traffic to the cities of Beijing, Shanghai and Guangzhou, all of which are roughly equidistant. This central location is a particularly convenient destination for business travellers and ordinary tourists alike, and is one of the reasons that many international companies have chosen to base themselves here.
The international airport lies 18 kilometres outside the city centre, a 20 to 25 minute trip by car, and is serviced by an average of 120 flights a day, including several daily flights to Beijing and Shanghai.
The main attractions in this vibrant destination centre around the Yangtze and Han Rivers, and include several annual festivals. During the famous Dragon Boat Festival, celebrated on the fifth day of the fifth moon (May), the water comes alive with the sound of drums and brightly painted craft with heads like open-mouthed dragons and scaly tails, each of which are manned by up to 80 rowers.
Visitors can also simply walk along the promenade beside the great Yangtze River and do a bit of people watching. The tourist authority advises: "Here you meet the Wuhanians from early in the morning to late at night, doing Tai Chi or jogging in the morning and water painters, tango dancers and lovers in the evening."