Cheap Flights to Sanya (SYX) from UK Airports
Book flights to Sanya
Sanya Cheapest Fares
To search and book flights to Sanya in 2022, please enter your requirements and click the search button above.
Sanya celebrates love with International Wedding Festival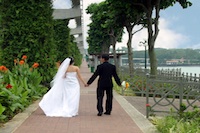 One of Sanya's most popular events is the Tianya-Haijiao International Wedding Festival. The event is held every year at the end of November or the beginning of December, on July the 7th according to the traditional Chinese calendar, and couples from all over the globe congregate to celebrate their marriage. Couples from all over the world use the festival as a chance to say their vows again in celebration of their relationship.
The wedding festival has been running since 1996 and takes place in a destination just outside of Sanya at the 'End of the Earth' which is a beach at the southernmost tip of China. There are a number of activities for couples to take part in with the main theme being that of expressing love between the them. These include a seabed wedding ceremony, natural hot spring baths, a campfire evening party and plenty of photograph opportunities. There are also more traditional activities, including Yalong Bay trips, the Nanshan tour, the Love Hill Carnival and the Tlanya Wedding Ceremony.
Tianya Haijiao refers to an eternal relationship in Chinese. It refers to the fact that the sea and sky and the stones and mountains will all be witnesses to love. It reflects an unattainable destination hence the fact that it is celebrated in the Bainan Province. It is a major event in Sanya and even the elephants are allowed to wander the streets freely in order to pay their own respects to the couples.